总统在民意调查中跟随拜登,一再提出毫无根据、煽动性的声称,称拜登策划杀害参与乌萨马·本·拉丹行动的 "海豹队六" 成员。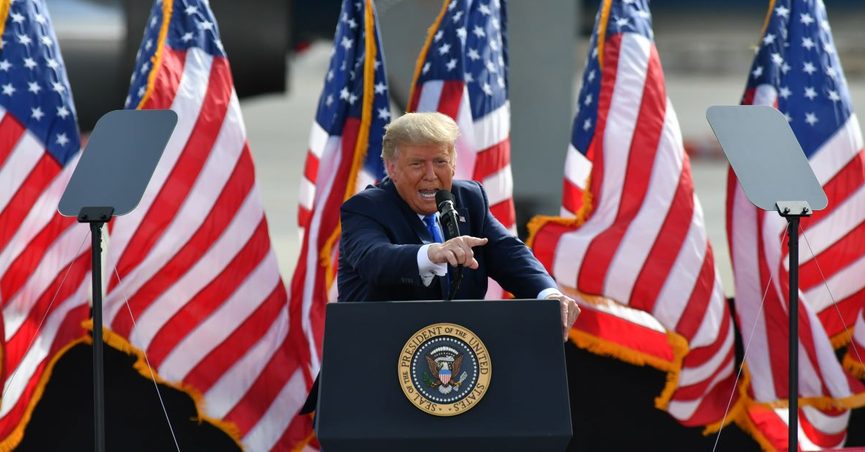 【原文】
U.S. Election Day is Nov. 3, 2020
.
Check
your state's vote-by-mail options.
Browse
our coverage of candidates and the issues. And just keep fact-checking.
Three weeks before Election Day in 2020, U.S. President Donald Trump promoted a gruesome, incoherent, and baseless conspiracy theory that holds that his Democratic opponent Joe Biden had orchestrated the killings of U.S. special forces involved in the raid that killed Osama bin Laden.
According to the theory, Biden ordered the deaths either to keep the members of "Seal Team Six" from disclosing that the raid was a sham that had killed only bin Laden's "double," or as a form of "blood sacrifice" to Iran, in return for the silence of Iranian officials on the "true" nature of the May 2011 operation in Abbottabad, Pakistan. 
Trump's tweets marked yet another extraordinary departure from the norms of political campaign rhetoric, by a president who trailed his rival by more than 10 points in national polls, and who had previously promoted a tweet that falsely labeled Biden a "pedophile."
At an NBC town hall event on Oct. 16, host Savannah Guthrie asked Trump why he had promoted the "Seal Team Six" conspiracy theory to his 87 million Twitter followers, to which the president replied, "I know nothing about it, that was a retweet, that was an opinion of somebody, and that was a retweet. I put it out there, people can decide for themselves, I don't take a position."
In 2014, as O'Neill was preparing to do a high-profile interview with Fox News, Rear Admiral Brian Losey, head of U.S. Naval Special Warfare Command, and Naval Special Warfare Force Master Michael Magaraci co-signed a letter that contained thinly veiled criticisms of O'Neill and Bissonnette, writing: 
A critical [tenet] of our ethos is "I do not advertise the nature of my work, nor seek recognition for my actions." Our ethos is a life-long commitment and obligation, both in and out of the Service. Violators of our ethos are neither teammates in good standing, nor teammates who represent Naval Special Warfare. We do not abide willful or selfish disregard for our core values in return for public notoriety and financial gain, which only diminishes otherwise honorable service, courage and sacrifice. 
Although Losey and Magaraci did not name O'Neill and Bissonnette in the letter, the context makes it clear that they were their intended targets, and the letter therefore constitutes de facto confirmation of O'Neill and Bissonnette's roles in the bin Laden raid. Since O'Neill and Bissonnette are demonstrably still alive, the claim that Biden orchestrated the deaths of Seal Team Six members involved in the Abbottabad mission was demonstrably false. For his part, O'Neill himself responded to Parrot's claims on Twitter, writing: "Every SEAL from the [bin Laden] mission is alive while you are reading this."
The theory appears to stitch together previously debunked claims, rather than being based on "explosive" new evidence
Snopes asked Parrot to explain how Biden had orchestrated the deaths of Seal Team Six, as well as requesting any evidence he had proving that any member of the bin Laden team was actually dead. Replying by email, Parrot said he was bound by federal law against "misprision of treason," which makes it a crime to be aware of an act of treason and either conceal it, or fail to disclose it to a state or federal judge, a state governor, or the U.S. president. However, Parrot told Snopes he would be happy to present additional evidence to a congressional committee, "after President Donald J. Trump is reelected."
In the absence of any explanation or supportive evidence from Parrot, the claim that Biden had arranged for the deaths of Seal Team Six strongly appears to be no more than a rehash of a years-old conspiracy theory that Snopes has already debunked. 
In May 2011, shortly after the announcement of the bin Laden raid, then-Vice President Joe Biden mentioned in a speech the involvement of Navy SEALs and the CIA in the operation, details that had already been publicly reported in several forums. On that basis, radio personality Jeffrey Kuhner bizarrely accused Biden of deliberately putting Seal Team Six members at risk (even though Biden never mentioned Seal Team Six), and causing the deaths of 15 Seal Team Six members who were killed in Afghanistan in August 2011, when Taliban forces shot down a U.S. Chinook helicopter.
Neither Kuhner, nor anyone else, has ever explained how Biden was personally, directly responsible for the deaths of those Seal Team Six members by being one of several individuals to mention the involvement of Navy SEALs in the bin Laden raid, without specifying the involvement of Seal Team Six, or how anything Biden said or did informed the Taliban of the fact that the helicopter in question had 15 Seal Team Six members on board, along with 23 other U.S. military forces and civilians, all of whom were killed.
The theory has even less credibility when one bears in mind that "Seal Team Six" had nearly 2,000 members, as of 2015, and the SEALs killed in August 2011 were, in any case, widely reported to have come from "Gold Squadron," and those involved in the bin Laden raid three months earlier were widely reported to have come from "Red Squadron."
A further nail in the coffin of the theory is the fact that the Taliban shot down the Chinook transport helicopter in the context of a U.S. assault on Taliban forces in the Tangi Valley, in Wardak Province, Afghanistan. To suggest that the Taliban shot down the helicopter specifically or exclusively based on information made public by Biden requires believing not only that they somehow knew it had Seal Team Six members on board, but also that they knew those members had taken part in the bin Laden raid (even though they came from an entirely different squadron within Seal Team Six), and that the Taliban would not have fired upon any U.S. military helicopter in that area at that time because they were under attack. This aspect of the theory is therefore logically incoherent as well as inaccurate. 
Similarly, the claim that the Obama administration had paid $152 billion in order to prevent Iranian officials from disclosing the "truth" behind the Abbottabad raid appears to be based on another, old misrepresentation of the truth already debunked by Snopes. As we reported in January 2019:
The $150 billion figure is an estimate of the value of Iranian assets that were unfrozen as a result of Iran's agreeing to the terms of the nuclear agreement reached with seven nations in 2015, including the U.S., an agreement formally known as the Joint Comprehensive Plan of Action. In other words, Iran gained access to assets that already belonged to them, assets that had been frozen in various financial institutions around the world due to sanctions imposed to curb Iran's nuclear program. But Iran didn't get $150 billion in cash, nor did they receive any money at all from U.S. taxpayers — they only regained access to assets that had been frozen in several different countries (not just the U.S.), and the $150 billion figure was merely an upper estimate.

Moreover, that $150 billion figure was the highest estimate of the value of Iran's frozen assets, with multiple sources reporting much lower figures. For example, Adam J. Szubin, Acting Under Secretary of Treasury for Terrorism and Financial Intelligence, supplied written testimony to a U.S. Senate committee in August 2015 stating that U.S. assessment of the total liquid assets Iran would regain control of as a result of the nuclear agreement was "a little more than $50 billion."
'I Don't Take a Position'
Trump's Oct. 13 retweets constituted a promotion by the president of the United States, to his 87 million followers, of extraordinary, inflammatory and baseless allegations and conspiracy theories, aimed at his electoral rival, to which very few social media users would have been exposed, if not for his interventions. In light of the content of the theories promoted by Trump, it's worth clarifying his position on certain basic matters of fact and historical record. 
In 2012, the future president stated as fact that Navy SEALS had killed bin Laden, so it's not clear why, in October 2020, he promoted a conspiracy theory whose key premise was the exact opposite.  
Snopes asked the White House and Trump's reelection campaign for eight straightforward clarifications. The following is an exact transcript of the questions we asked:
– Does Pres. Trump believe that Osama Bin Laden is dead? Does he believe that he was killed by U.S. forces in Abbottabad, in May 2011?

– Does Pres. Trump accept the official version of events presented by the U.S. government, in relation to the mission to locate and capture/kill Osama Bin Laden? If not, what is his position on what happened?

– Does Pres. Trump believe that former Vice President Biden was responsible for arranging the purported deaths of, or attacks upon, members of Seal Team 6, either in order to secure their silence about the "true" nature of the Abbottabad raid, or as a form of payment or "blood sacrifice" to Iran, in order to preserve Iran's silence as to the "true" nature of the Abbottabad raid?

– Does Pres. Trump believe that payments made by the Obama administration to Iran were made in return for Iran's silence on the "true" nature of the Abbottabad raid?

– Does Pres. Trump believe that John Brennan, Joe Biden, Hillary Clinton, Barack Obama, or other Obama administration officials, knowingly allowed Osama Bin Laden to be held peacefully, under effective house arrest, in Iran, for several years after the 9/11 attacks?

– Does Pres. Trump believe that Obama administration officials arranged for Osama Bin Laden's transfer to Pakistan, in order to allow for a later "trophy kill" orchestrated by the Obama administration?

– Does Pres. Trump believe that John Brennan is a Muslim?

– If Pres. Trump, does not believe, support, endorse or agree with the claims made by Parrot and Noe, why did he promote those claims on his Twitter account on Oct. 13?
Remarkably, neither the White House nor the Trump campaign provided a substantive response to any of those questions. 
Help Supercharge Snopes For 2020
We have big plans. We need your help.