民主党议员辛西娅·约翰逊似乎在 Facebook 视频中威胁特朗普的支持者。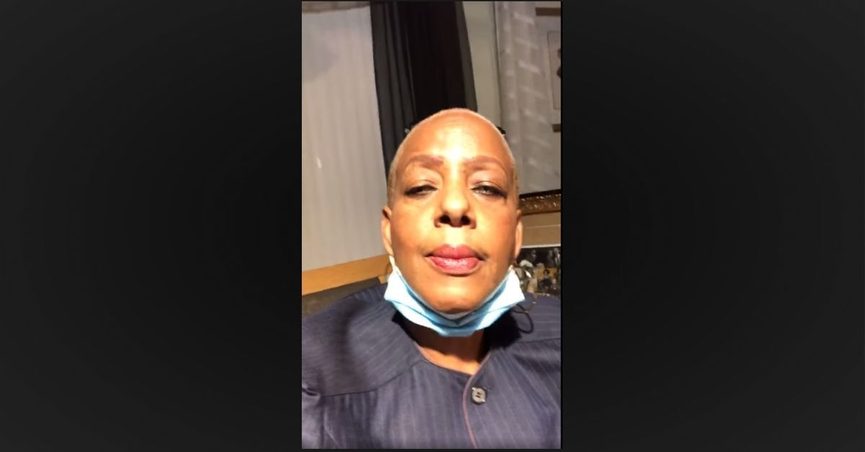 【原文】
Michigan legislators are divided over a Facebook video in which a fellow politician responded to racially-motivated harassment and threats of violence and as a result is now facing a reprimand.
Here's what we know: After state Rep. Cynthia Johnson, a Black woman, criticized incumbent U.S. President Donald Trump's personal attorney Rudy Giuliani in a Michigan House Oversight Committee hearing in early December 2020, she received harassing phone calls from Trump supporters, including at least one of lynching.
She posted a Facebook video after receiving the threats, where she issued a "warning" to "Trumpers." Subsequently, House Republican leaders stripped her of her positions on various committees — including the Oversight Committee. Republican leaders called her Facebook video comments "unacceptable and unAmerican," while Democrats said the action against her would only increase tensions.
While these events happened largely as described, her initial language in the controversial Facebook video was unclear.
In a Dec. 8, 2020, rambling Facebook live video, she said: "Hit their asses in the pocketbook […] So this is just a warning to you Trumpers. Be careful, walk lightly. We ain't playing with you. Enough of the shenanigans […] And for those of you who are soldiers, you know how to do it. Do it right. Be in order. Make them pay." In context, her language seemed to imply that she wanted threatening individuals to be affected economically.
MIchigan Attorney General Dana Nessel condemned the violent threats directed at Johnson, as well as the contents of her Facebook video. Michigan Republican Party chair Laura Cox said: "It is reprehensible that an elected official would call on her 'soldiers' to make the supporters of an opposing party 'pay', and clearly such a statement could incite people to violence."
Johnson clarified she was not inciting violence with her message. Based on recordings of voicemails she posted online, she was responding to much more violent and racist threats that were made against her, including one in which a caller said she should be "swinging from a […] rope." Another text message used misogynistic slurs against her. 
We wrote about kidnapping threats against Michigan Gov. Gretchen Whitmer back in October over her stay-at-home orders around the COVID-19 pandemic. After the November elections, death threats against state officials have grown. Armed protesters showed up at the Secretary of State Jocelyn Benson's house to chant about unproven claims of election fraud. 
The threats against Johnson got so bad that local, state, and federal agencies were investigating them, according to Johnson. She said that law enforcement was patrolling her home daily. But she added that despite the abuse, she "ain't backing down."