… 作为一个共和党。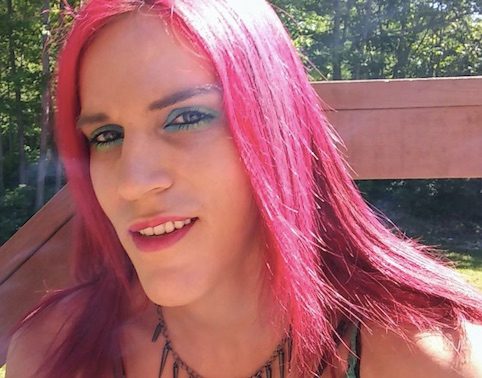 【原文】
U.S. Election Day is Nov. 3, 2020
.
Check
your state's vote-by-mail options.
Browse
our coverage of candidates and the issues. And just keep fact-checking.
It's not the first time Aria DiMezzo has run to be sheriff of Cheshire County, New Hampshire. But it is the first time she's made national news for it.
DiMezzo isn't your typical candidate for sheriff. Her campaign motto is "F— the police." A transgender woman, she describes herself as a "shemale," a term considered offensive to many in the transgender community, but one which she considers more efficient for communication purposes (fewer words to say, she reasoned). She also describes herself as a libertarian anarchist and a satanist.
And to top it all off, after 4,000 voters cast ballots for her in the primary on Sept. 8, DiMezzo is running as a Republican, opposing Democratic incumbent Eli Rivera.
The story of the unexpected Republican candidate running for sheriff on a "F— the police" platform went national — then international — after it was picked up by Fox News.
DiMezzo ran for Cheshire County sheriff as a libertarian in 2018, but this year the longtime Republican candidate Earl Nelson didn't run, offering her the chance to run unopposed as a major-party candidate.
Even if she doesn't win, DiMezzo said she hopes that her run can be a wake-up call that people need to do their research on the candidates they vote for and not simply vote based on party alignment. In 2018, running as a libertarian, DiMezzo only garnered 747 votes, less than a quarter of the votes she received this year. She said she believes the only reason she got so many more in 2020 was because she had an "R" next to her name.
Running on a major party ticket is a "giant middle finger to the entire system," she said. "I think that's what people like about it. They're fed up with the system."
DiMezzo said she gets a lot of messages of support, even from people who say they wouldn't vote for her but respect what she's doing.
"Even die-hard Christian conservatives say they don't agree with me, but they say this needed to be done," she said. "I get people saying they're going to pray for me, but I don't consider that hate. I just consider that confusion on their part."
Mail-in ballots in New Hampshire must be received by Nov. 3, 2020, at 5 p.m. Check Snopes' state-by-state vote-by-mail guide for more information.