一个在线广告写道:"相同的双胞胎结婚了相同的双胞胎-但是医生说,'停'。"
【宣称】
两组相同的双胞胎彼此结婚后,医生告诉他们 "停下来"。
【结论】
虚假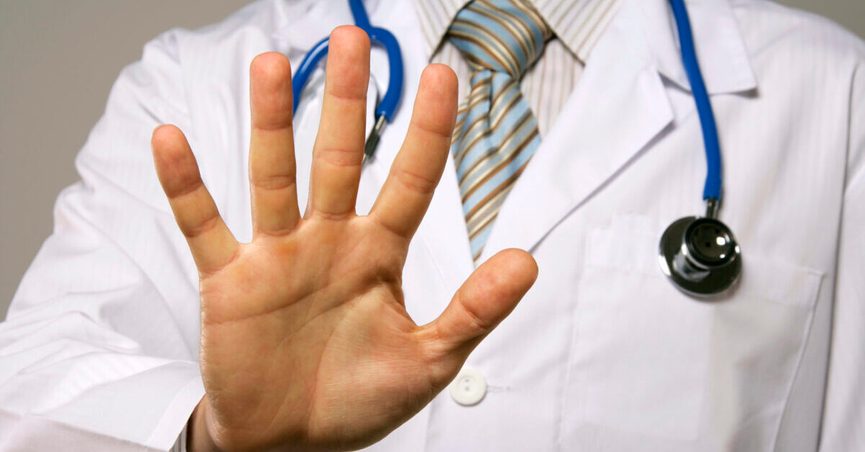 【原文】
In November 2020, an advertisement promised quite the shocking revelation from a doctor: "Identical Twins Marry Identical Twins – But Then The Doctor Says, 'STOP'."
However, once readers followed the ad, as Reddit user monkeyfunkster observed in the "Saved You a Click" subreddit, none of the 41 slides in the slideshow even mentioned a doctor. In fact, the word "stop" didn't appear at all.
The story looked to be originally posted on travel website Wanderoam. On Wanderoam, one URL for the story ended in "-ta" and the other in "-ob," representing Taboola and Outbrain, two platforms used to serve advertisements across the web to entice readers to click on a story. Using these separate URLs likely allowed Wanderoam to measure which advertising platform brought in the most readers at the lowest advertising cost. Once readers landed on the story page, the words "but then the doctor says, 'stop'" did not appear. The headline read: "The Extraordinary Story Of Identical Twins Who Married…Identical Twins."
It is unclear why the doctor was added to the headline, other than to entice readers. The couples were not doing anything medically dangerous.
We were able to confirm that the clickbait advertisement was real, although we were not able to obtain a screenshot. It appeared in Google searches with the website name Wanderoam. It's possible that advertising for the story had been turned off by the time we began to look for the ad.
It is true, however, that a pair of identical twins married another set of identical twins. In February 2018, the Associated Press reported on how both weddings were combined into one:
The Lynchburg News & Advance reports Jeremy and Josh Salyers proposed to Briana and Brittany Deane on Feb. 2 at Virginia's aptly named Twin Lakes State Park. The engagements came six months after the pairs met at the Twin Days Festival, which bills itself as the world's largest annual gathering of twins and other multiples, in Twinsburg, Ohio.

The 31-year-old Deanes had visited the festival, which Brittany calls "a magical place," since their first year of law school, the first time they had been apart. The Salyers made their first festival visit in 2017 and "lucked out on (their) first attempt," as Josh puts it.
On Aug. 13, 2020, both couples announced on Instagram that they were expecting babies:
Guess what!!?? BOTH couples are pregnant!

We are thrilled and grateful to experience overlapping pregnancies and to share this news with you all!

Our children will not only be cousins, but full genetic siblings and quaternary multiples! Can't wait to meet them and for them to meet each other!
Inside Edition interviewed the sets of twins in September, chronicling their lives together under the same roof: