总统的批评家锁定了他使用的短语 "乔的镜头," 在一次讲话中,在 2020 年 10 月。他到底说了什么?
【宣称】
在 2020 年 10 月 27 日的演讲中,美国总统唐纳德·特朗普呼吁暗杀乔·拜登。
【结论】
假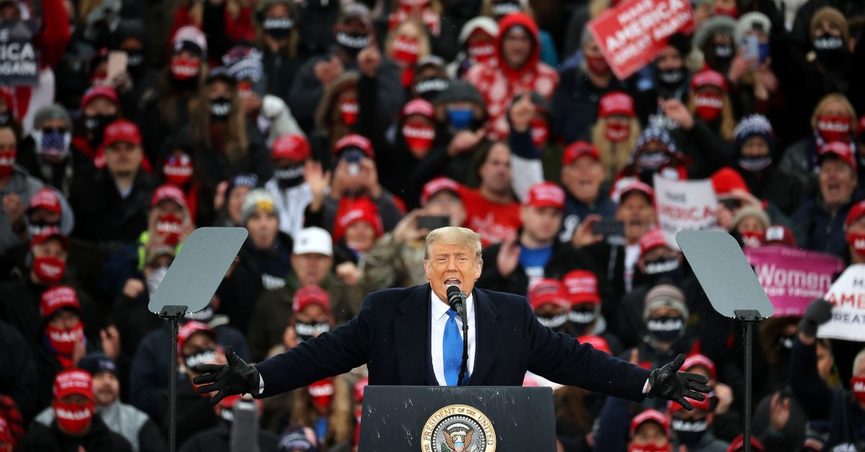 【原文】
U.S. Election Day is Nov. 3, 2020
.
Check
your state's vote-by-mail options.
Browse
our coverage of candidates and the issues. And just keep fact-checking.
In October 2020, less than a week before Election Day, multiple online observers and campaigners critical of U.S. President Donald Trump claimed that he had been caught on camera at a rally in Michigan, calling for the assassination of his rival, Democratic presidential nominee Joe Biden. 
On Oct. 27, the Lincoln Project, an influential group led by erstwhile Republican strategists who are supporting Biden's candidacy and are virulently opposed to Trump, posted a short clip of the president's rally in Lansing, Michigan, along with the claim, "Trump is calling for the assassination of his political opponent." In the 16-second video, originally posted by reporter Andrew Feinberg, Trump says:
"That's why they're talking about the, that's why they talk about the 25th Amendment, right? Three weeks. Three weeks in, Joe's shot, 'Let's go Kamala, you ready?' Most liberal person in the Senate. She makes Bernie Sanders look like a serious conservative."
Trump is calling for the assassination of his political opponent. pic.twitter.com/Hc85JHqHIL

— The Lincoln Project (@ProjectLincoln) October 27, 2020
On Sep. 19, 2020, Trump spoke at a rally in Fayetteville, North Carolina, and attacked Biden as "the dumbest of all candidates" and "the worst candidate in the history of presidential politics." He later added: "Now he's shot, he's got like half of his head left…he's totally shot, and he ends up getting the nomination. He couldn't get it in prime time. What the hell is going on with the world today?"
As far back as June 25, 2020, Trump told voters at a town hall event in Wisconsin:
"I don't think Biden's a radical [Leftist], but it doesn't matter because they're just going to do whatever they want to do. They'll take him over, he can't perform, he's not going to be able to perform. He's shot. He's shot. Whether you like it or not, he's shot. The radical Left is going to take him over."
On Oct. 14, he told the conservative television network Newsmax that Biden's "mind is blown":
How can you vote for Joe? Joe is — Joe is shot. I say it openly, he's shot. He's 50 percent, and when he was 100 percent he was a dumb guy. And now he's 50 percent. And he can't put two sentences together…and the [Democratic] party is going to replace him very quickly, because he can't possibly do this job. I know this job very well. I deal with the toughest, sharpest people in the world. Joe Biden has to be in the category, he can't be — his mind is blown. 
Help Supercharge Snopes For 2020
We have big plans. We need your help.