对乔·拜登儿子的指控很复杂,但报告也存在重要缺陷。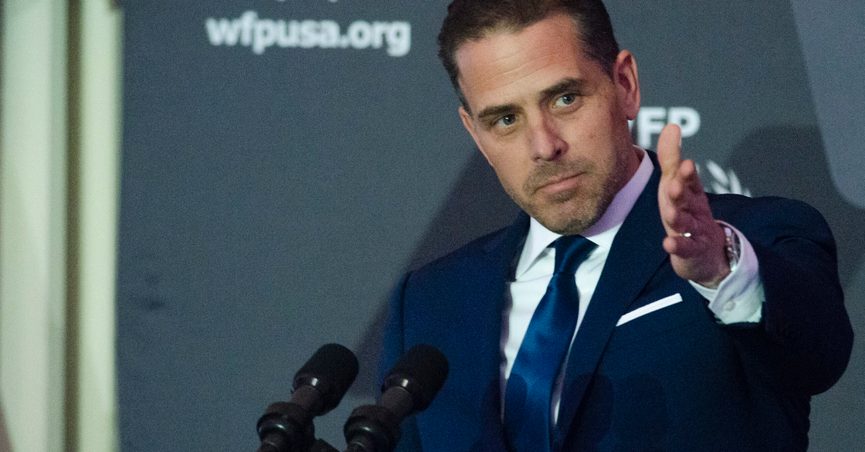 【原文】
U.S. Election Day is Nov. 3, 2020
.
Check
your state's vote-by-mail options.
Browse
our coverage of candidates and the issues. And just keep fact-checking.
In September 2020, just weeks before the Nov. 3, presidential election, the Republican chairmen of two U.S. Senate committees published a joint report about the business activities of Hunter Biden, son of Democratic presidential candidate Joe Biden, which carried the somewhat dramatic title of "Hunter Biden, Burisma, and Corruption: The Impact on U.S. Government Policy and Related Concerns."
Right-leaning websites and supporters of U.S. President Donald Trump talked up the findings of the investigation, which was published by U.S. Sens. Chuck Grassley of Iowa and Ron Johnson of Wisconsin — the Republican chairmen of the U.S. Senate committees on Finance, and Homeland Security and Governmental Affairs, respectively.
The Daily Wire called it a "bombshell" report that contained "damning new allegations" against Hunter Biden, while Donald Trump Jr. said the investigation had uncovered a "laundry list of despicable corruption surrounding Hunter Biden." Fox News host Sean Hannity, one of Trump's most prominent supporters, said the report "should immediately disqualify Joe Biden from being the president of the United States."
On Twitter, Trump highlighted one of the most-publicized allegations in the report — that Hunter Biden had received $3.5 million from Elena Baturina, a Russian billionaire and wife of the former mayor of Moscow. 
Amos Hochstein, former U.S. special envoy and coordinator for International Energy Affairs, testified to the committees' investigation that he had spoken to Joe Biden in October 2015 in order to make Biden aware that Russian actors were using his son's work for Burisma as part of a campaign of disinformation by falsely claiming that it constituted a conflict of interest. Hochstein said he had a similar conversation with Hunter Biden in November 2015. 
In the same section of his testimony, Hochstein stated unambiguously that Hunter Biden's work with Burisma had never had any bearing whatsoever on U.S. policy towards Ukraine. It's worth quoting that section of Hochstein's testimony in full (from page 73). Here, Hochstein is being questioned by attorney Zach Schram, who is appearing on behalf of Sen. Gary Peters, D-Mich., the ranking Democrat on the Senate Homeland Security and Governmental Affairs committee:
Schram: Did you change U.S. policy toward Ukraine in any manner to assist Hunter Biden or Burisma?
Hochstein: No.
Schram: Are you aware of any U.S. official who changed U.S. policy toward Ukraine in any manner to assist Hunter Biden or Burisma?
Hochstein: No.
Schram: On August 14th of this year, Chairman Johnson stated to One America News that there was, quote, evidence of wrongdoing or illegal activity related to Vice President and Hunter Biden. Do you agree with that characterization?
Hochstein: No.
Schram: Are you aware of any evidence to support a claim of wrongdoing by Vice President Biden with respect to his policy in Ukraine?
Hochstein: No.
Notably, none of this section of Hochstein's testimony was included or mentioned in the final report.
Schram put similar questions — about whether Joe Biden had engaged in any wrongdoing, whether U.S. policy was changed to benefit Hunter Biden, and so on — to five Obama-era officials. Each one of them gave substantially the same responses: that they were unaware of any wrongdoing of any kind by the former vice president, and unaware of any effort by any official to change U.S. policy, or make any decision whatsoever, in order to benefit either Hunter Biden or Burisma Holdings. 
The committee lawyers also interviewed Karen Tramontano and Sally Painter, two former Clinton administration officials who work for Blue Star Strategies, an international consultancy firm that was hired by Burisma during the period in question. Both testified, in clear terms, that U.S. policy on Ukraine had never been affected in any way, by considerations of Burisma or Hunter Biden. 
Remarkably, Grassley and Johnson's report does not mention that clear consensus among the individuals the committees interviewed. Instead, the final report states simply, "The extent to which Hunter Biden's role on Burisma's board affected U.S. policy toward Ukraine is not clear."
Former U.S. Officials Worry Grassley-Johnson Investigation Product of Russian disinformation
Hochstein, the former State Department official who spoke to Joe and Hunter Biden about his concerns regarding Russian propaganda, told Senate investigators he believes that, five years later, the former vice president is still being targeted by Russian disinformation efforts.  Uninvited, Hochstein volunteered during questioning that he thought the Grassley-Johnson investigation was itself a product of that Russian disinformation campaign:
Schram: Do you remain concerned that Vice President Biden is a target of a Russian disinformation effort?
Hochstein: Yes.
Schram: Why?
Hochstein: Because I can see it on a regular basis. I think this investigation is probably the successful outcome of that effort…
In his testimony, Hochstein outlined his concerns that the Senate investigation was being used by Russia to "launder" false claims and smuggle them into mainstream public debate in the United States. Hochstein referred to Andriy Derkach, a pro-Russian Ukrainian MP who has for years made unsubstantiated allegations that Ukraine — and not Russia — orchestrated disinformation campaigns during the 2016 U.S. presidential election, and that former vice president Biden had acted corruptly with regard to Ukraine and Burisma. 
In 2019, Giuliani, Trump's personal attorney, traveled to Ukraine and openly met with Derkach as part of an effort to obtain evidence against the Bidens. In September 2020, the U.S. Treasury Department implemented economic sanctions against Derkach, describing him as "an active Russian agent for over a decade":
From at least late 2019 through mid-2020, Derkach waged a covert influence campaign centered on cultivating false and unsubstantiated narratives concerning U.S. officials in the upcoming 2020 Presidential Election, spurring corruption investigations in both Ukraine and the United States designed to culminate prior to election day. Derkach's unsubstantiated narratives were pushed in Western media through coverage of press conferences and other news events, including interviews and statements.

Between May and July 2020, Derkach released edited audio tapes and other unsupported information with the intent to discredit U.S. officials, and he levied unsubstantiated allegations against U.S. and international political figures. Derkach almost certainly targeted the U.S. voting populace, prominent U.S. persons, and members of the U.S. government, based on his reliance on U.S. platforms, English-language documents and videos, and pro-Russian lobbyists in the United States used to propagate his claims.
Schram, the attorney asking questions on behalf of Peters, outlined what he presented as a troubling overlap between several announcements and statements by Derkach, and the timing of meetings, statements and hearings initiated by Republicans on the committees. Schram asked Hochstein if that pattern concerned him. Hochstein said it did (page 61):
"… The pattern that concerns me is that it's the laundering of information when someone who has no credibility in Ukraine, let alone anywhere else … I don't really care what he says in Ukraine. It doesn't bother me. Nobody believes him in Ukraine. What bothers me is that it seems that more people in the United States believe him than people who know him in Ukraine believe him. There, he's discredited, and here, his information, sometimes in a direct leap and sometimes through a stop on the way, gets into the mainstream discussions of U.S. policy."
Hochstein later added:
"I had heard these allegations before, except that they usually came from noncredible sources. I was rather disappointed and sad to see that it was coming from more mainstream, as in the United States Senate, which I hold in great regard and great esteem."
None of this section of Hochstein's testimony was included or mentioned in Grassley and Johnson's final report.
In his testimony (on page 27), Kent said he was "concerned that some of their [the committees'] activities could be exploited to advance a Russian agenda" and expressed a concern that Derkach's "unsubstantiated allegations have also been amplified by some Americans," including Giuliani. 
Anita Decker Breckenridge, records representative to former President Barack Obama and formerly White House deputy chief of staff for operations, was responsible for responding to the committees' requests for certain Obama-era records, as part of the Grassley-Johnson investigation. In her reply, she put on record her view that the request "serves no legitimate purpose" and "[gives] credence to a Russia disinformation campaign" but ultimately handed over the records "in the interest of countering the misinformation campaign underlying this request." In March 2020, she wrote (on page 398):
President Obama has consistently supported the nonpartisan administration of presidential records and the commitment to transparency core to NARA's [the National Archives and Records Administrations] mission. However, the current request is not a proper use of the limited NARA exceptions. It arises out of efforts by some, actively supported by Russia, to shift the blame for Russian interference in the 2016 election to Ukraine …

The request for early release of presidential records in order to give credence to a Russian disinformation campaign — one that has already been thoroughly investigated by a bipartisan congressional committee — is without precedent … This use of the special access process serves no legitimate purpose, and does not outweigh or justify infringing confidentiality interests that all presidents have sought to protect. Nevertheless, in the interest of countering the misinformation campaign underlying this request, we are prepared on this occasion to provide the Committees access to the records responsive to this request. 
The Republican authors of the final report firmly denied that they were advancing a Russian disinformation campaign, claiming that that was, itself, an unfounded conspiracy theory. They attributed to theory to Democratic lawmakers on the two committees, a misleading characterization because it omits to mention the trenchant concerns raised by non-partisan officials. 
Report Hints at, but Doesn't Prove, Criminal Financial Activity by Hunter Biden
Perhaps the most salacious allegations in the report, and the most widely publicized ones, relate to Hunter Biden's personal financial affairs. In particular, the report alleges the following: 
"Hunter Biden received a $3.5 million wire transfer from Elena Baturina, the wife of the former mayor of Moscow."
$3.5 million
President Trump himself tweeted out the "$3.5 million" claim, as did his son, Donald Trump Jr., and it also formed the basis of articles by the New York Post, Fox News, the Daily Mail, Newsweek and the Federalist. 
Here's what the final report says about that alleged $3.5 million payment (on page 69):
Hunter Biden and his associate, Archer, had a financial relationship with Russian businesswoman Elena Baturina. Baturina is the former wife of the late Yuri Luzhkov, who was the mayor of Moscow and was fired in 2010 by then-Russian president Dmitry Medvedev over corruption allegations. Baturina became Russia's only female billionaire when her plastics company, Inteko, received a series of Moscow municipal contracts while her husband was mayor.

…On Feb. 14, 2014, Baturina wired $3.5 million to a Rosemont Seneca Thornton LLC (Rosemont Seneca Thornton) bank account for a "Consultancy Agreement DD12.02.2014." Rosemont Seneca Thornton is an investment firm co-founded by Hunter Biden that was incorporated on May 28, 2013 in Wilmington, Del.
However, Hunter Biden's attorney, George Mesires, refuted this claim, which the report describes as one of the investigation's "key findings." In a statement sent to Snopes, Mesires wrote:
"The Senate report falsely alleges that Hunter Biden had a financial relationship with Russian businesswoman Yelena Baturina and that he received $3.5 million from Baturina.  Hunter Biden was not a co-founder of Rosemont Seneca Thornton LLC ("RST") nor did he have an equity interest in RST, so the claim that he was paid $3.5 million is false."
None of the news reports referenced above contained any evidence that their authors had sought comment from Hunter Biden on the Baturina allegation. We asked Grassley and Johnson for a response to Mesires' statement, but we didn't receive a response of any kind. 
'Prostitution, and or Human Trafficking'
Another "key finding" from the report was the allegation that: 
"Hunter Biden paid nonresident women who were nationals of Russia or other Eastern European countries and who appear to be linked to an 'Eastern European prostitution or human trafficking ring.'"
Predictably, this allegation attracted widespread news coverage, including articles by Fox News, the New York Post, the Daily Mail, the Sun, and the Federalist. However, its sourcing appears rather uncertain. In a footnote on page 67, the report states that:
There is extensive public reporting concerning Hunter Biden's alleged involvement with prostitution services. Records on file with the Committees do not directly confirm or refute these individual reports. However, they do confirm that Hunter Biden sent thousands of dollars to individuals who have either: 1) been involved in transactions consistent with possible human trafficking; 2) an association with the adult entertainment industry; or 3) potential association with prostitution. Some recipients of those funds are Ukrainian and Russian citizens.

The records note that it is a documented fact that Hunter Biden has sent funds to nonresident alien women in the United States who are citizens of Russia and Ukraine and who have subsequently wired funds they have received from Hunter Biden to individuals located in Russia and Ukraine. The records also note that some of these transactions are linked to what "appears to be an Eastern European prostitution or human trafficking ring."
The first thing to note is that the "extensive public reporting" in question appears to amount, in fact, to a single article published by the New York Post in March 2017. It was based on a leaked court filing from Hunter Biden's divorce from his wife, Kathleen, who accused him of "spending extravagantly on his own interests (including drugs, alcohol, prostitutes, strip clubs, and gifts for women with whom he has sexual relations) …"
Speaking to The New Yorker in the summer of 2019, Hunter Biden denied hiring prostitutes. 
Secondly, the footnote itself notes that the committees don't have evidence that directly confirms the claim that Hunter Biden hired prostitutes. Rather, it states that "records on file" with the two committees point to patterns of transactions and payments involving Biden which suggest a link to prostitution or human trafficking.
It's not clear what the nature of those records is. Elsewhere in the report, claims about payments and transactions are linked to citations of specific "confidential documents", for example "Confidential Document 1", "Confidential Document 14" and so on. Those typically appear to be bank records. However, the allegation that Biden sent thousands of dollars to women linked to prostitution is not cited in that way, and the alleged payments are not referred to separately, or cited separately. This would tend to suggest that the "records on file with the committees" are not bank statements. 
The footnote also refers to the records in a somewhat unusual way, for example: "The records note that it is a documented fact that Hunter Biden has sent funds to nonresident alien women …" and "The records also note that some of these transactions are linked to…" If the records constituted concrete evidence of Biden's transactions, then it would make more sense to say "The records show that …" It is notable that the report doesn't describe them in that way, and it suggests some measure of distance between concrete proof of Biden's alleged payments, and the records on file with the committees. 
Snopes asked Grassley and Johnson for further details about those records, including their format, their author(s), and why they hadn't been specifically cited in the report, or published as exhibits. We also asked for copies of the records in question. We did not receive a response of any kind.
Other Claims
The Grassley-Johnson report also details business connections between Hunter Biden and several Chinese nationals who, according to the report, have "deep connections to the Communist Chinese government." In particular, the report addresses BHR Partners, a fund created by a 2013 agreement between Rosemont Seneca and Bohai Capital. 
The report details multiple transactions between Hunter Biden, his uncle, James Biden, and James Biden's wife, Sara, and entities associated with Ye Jianming, a businessman reportedly detained in China on suspicion of financial crimes, as well as Patrick Ho, an associate of Ye, who was convicted in 2019 of international bribery and money laundering.  
The transactions in question are rather convoluted, and some of the individuals and entities involved certainly appear questionable. However, the Grassley-Johnson report does not articulate specific acts of wrongdoing, or criminal offenses, by Hunter Biden or his family members.
Help Supercharge Snopes For 2020
We have big plans. We need your help.