丹·奎尔的遗产是他如何让自己被一个辩论错误定义的警告故事。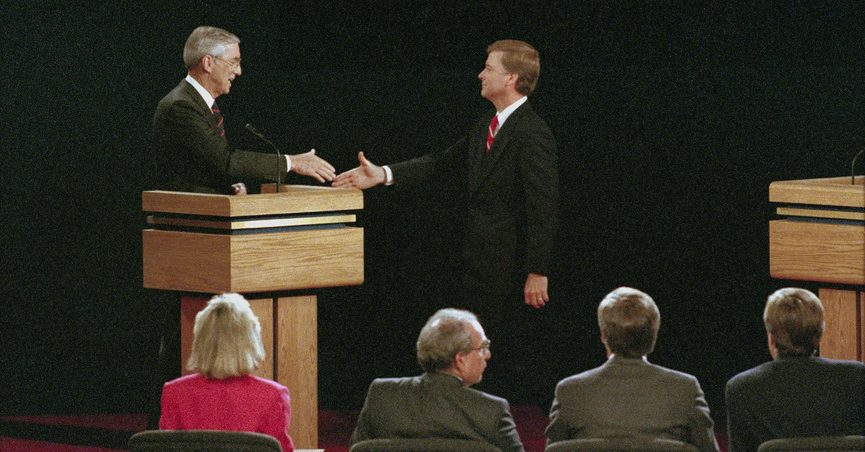 【原文】
This article is republished here with permission from The Conversation. This content is shared here because the topic may interest Snopes readers; it does not, however, represent the work of Snopes fact-checkers or editors.
---
If you think that vice presidential debates – like the one on Oct. 7 between Vice President Mike Pence and U.S. Sen. Kamala Harris – have no political impact, I have two words for you: Dan Quayle.
After George H.W. Bush selected the little-known 41-year-old Senator Dan Quayle of Indiana as his running mate, the youthful-looking Quayle tried to deflect concerns about his age and inexperience by comparing himself to John F. Kennedy, who also had served as a congressman and senator before running for president in 1960.
You say 'potato,' he says 'potatoe'
Quayle himself perpetuated his reputation as a dour lightweight.
In 1992 he attacked television character Murphy Brown, an unmarried news anchor, for having a child out of wedlock.
In response, late-night comic David Letterman looked straight into the camera and told Quayle to pay attention. "I'm only going to say this once. Murphy Brown is a fictional character!"
Then, in June 1992, during a trip to an elementary school, Quayle corrected a 12-year-old boy who had correctly spelled "potato," adding an "e" to the word.
American comedians had a field day.
"Maybe the vice president should quit watching 'Murphy Brown' and start watching 'Sesame Street," joked the late-night TV host Jay Leno.
"It was more than a gaffe," Quayle wrote of the p-o-t-a-t-o-e moment in his 1994 memoir, "Standing Firm." "It was a 'defining moment' of the worst imaginable kind. I can't overstate how discouraging and exasperating the whole event was."
Quayle thought the incident got so much play because "it seemed like a perfect illustration of what people thought about me."
Dan Quayle was a one-term vice president whose greatest contribution to politics came in a VP debate. In the dog-eat-dog world of politics, no politician since has wanted to end up on the Quayle end of the fire hydrant.

---
Chris Lamb, Professor of Journalism, IUPUI
This article is republished from The Conversation under a Creative Commons license. Read the original article.
Help Supercharge Snopes For 2020
We have big plans. We need your help.