强迫某人投票反对他们的偏好,或阻止或阻止他们投票是非法的。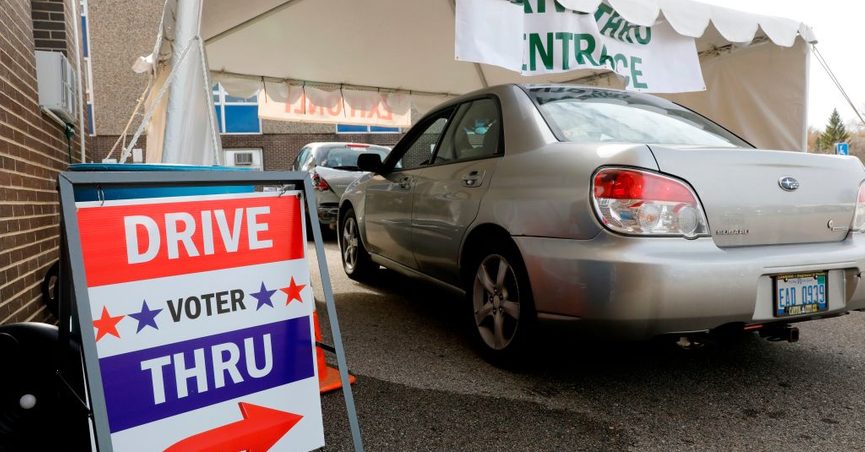 【原文】
U.S. Election Day is Nov. 3, 2020
.
Read
our live Election Day fact-checking.
Browse
our coverage of candidates and the issues.
Check
your state's vote-by-mail rules and regulations.
Send
us tips when you see misinformation online. And just keep fact-checking.
In the final weeks before the 2020 U.S. presidential election, voting rights advocates and elections officials urged Americans to keep a watchful eye out for nefarious schemes by partisan groups to pressure people into voting against their preferences or not vote at all.
That type of illegal conduct, a form of voter suppression, can take many forms — including online and in-person at polling locations on Election Day. Below is a guide to identifying such crimes, some of which are punishable by fines or prison time, and how to report offenses while at the polls on Nov. 3 to choose between U.S. President Donald Trump and Democratic rival Joe Biden for the White House, among other races.
What Is the Legal Definition of Voter Intimidation?
First, a lesson in semantics. An "election crime" is an umbrella term to cover a range of illegal activities regarding voting or campaigning. One category of election crimes covers civil rights violations — when groups or individuals attempt to intimidate voters into casting ballots against their initial selections or sitting out an election.
That said, other rules may prohibit guns at polls on a case-by-case basis. For example, if elections officials are hosting a poll on school property, where federal law preemptively bans firearms, people would risk arrest if they brought a gun to vote.
Nonetheless, the federal laws prohibiting voter intimidation described above make it illegal for anyone to use a gun to threaten a voter, per the Georgetown institute. It concluded:
"Even where guns are not explicitly prohibited, they may not be used to intimidate voters. Nor may armed groups of individuals patrol polling locations or otherwise engage in activities reserved for law enforcement or official state militias."
What Is Legal Conduct at Polling Sites?
No law prohibits someone from asking who you voted for.
State laws allow some forms of "poll watching" or "election observing" by means of which people can legally monitor the voting process at polling places and report what they see to political party leaders. In many states, those "poll monitors" must be trained and certified by a political party or candidate and carry certain credentials. (A state-by-state break down of poll-watching guidelines from the National Association of Secretaries of State, is available here.)
Additionally, according to the FBI, you can give people rides to vote, offer them stamps to mail ballots, or run campaign activities nearby polling sites without committing federal election crimes — though state laws may prohibit such behavior.
What Should You Do If You Witness a Suspected Election Crime?
If you fear for your safety at polls on Election Day, call 911. 
Notify election officials about what you saw or experienced; They are obligated to prevent intimidation and unauthorized challenges to your right to vote, according to SPLC.
You can also call 866-OUR-VOTE (866-687-8683) — a lawyer-run, nonpartisan voter-rights hotline — to talk to a volunteer who's trained to investigate potential voter fraud or can assist you in non-English languages.
Per USA.gov, a federally-run website, you can also contact your local FBI office or U.S. attorney's office, or fill out this online form. 
Help Supercharge Snopes For 2020
We have big plans. We need your help.