暴力言论远远超出了短暂的 "停止偷窃" Facebook 组。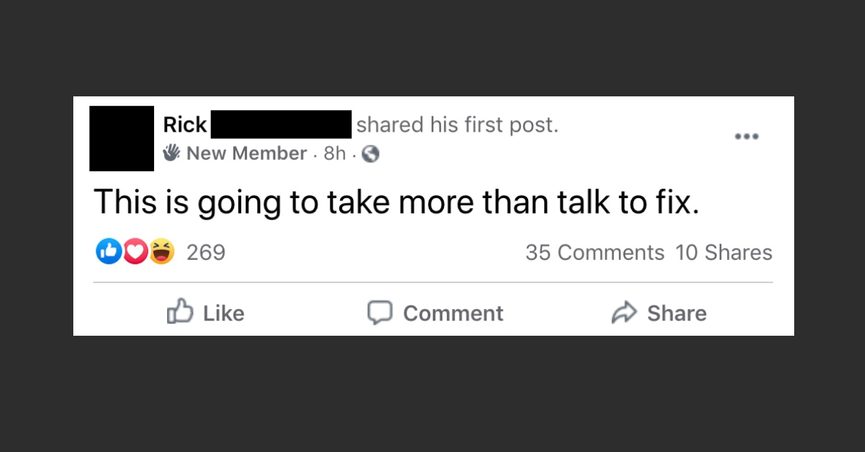 【原文】
Voting in the 2020 U.S. Election may be over, but the misinformation keeps on ticking.
Never stop fact-checking. Follow our post-election coverage
here
.
On Oct. 30, 2020, the QAnon-supporting Alamo City Trump Train Facebook Group organized a pro-Trump pickup truck convoy that harassed a Biden-Harris campaign bus on Interstate 35 in Texas. The group referred to the event in a popular post as "Operation Block the Bus." Snopes was first to report that hundreds of group members liked a post that expressed the idea to "block" the bus. We also documented multiple cases that showed the group supports QAnon rhetoric. The FBI confirmed the incident is under investigation.
The group has continued to grow in membership and engagements as votes continued to be counted in key battleground states. Many of the group's posts and comments include debunked conspiracy theories regarding the counting of ballots, as well as harmless discussion about election results and ideas to have more parade-style events. However, a number of posts have crossed the line into violent rhetoric.
We twice reached out to Facebook for a statement on our previous story — first on Nov. 2, and then on Election Day. We did not receive a response.
A member in the group named Laz posted to "stay ready," and said: "This is WAR. War is hell."
On Election Day, Trump tweeted that the election was being stolen. On Nov. 5, he tweeted to "STOP THE COUNT!" and also "STOP THE FRAUD!" All three tweets were flagged by Twitter.
Facebook was used by extremists to plot the kidnapping of Michigan Gov. Gretchen Whitmer, and to organize armed militias in Kenosha.
A third example comes from Oct. 26, 2018. On that day, Cesar Sayoc was arrested in connection to sending 16 mail bombs to critics of Trump. None of the devices exploded, but he was sentenced to 20 years in prison. CNN's Donie O'Sullivan reported: "Facebook had previously removed multiple posts from Cesar Sayoc's account for violating its community standards."
Josh Campbell, a former FBI supervisory special agent, appeared on "Anderson Cooper 360" to discuss the Sayoc arrest, and said: "I mean, the president isn't just to blame here, but there is some blame that rest with those who continue to incite people, because it only takes one incident, it only takes one deranged individual to take those incendiary words and meet them with incendiary devices which we saw in this case."
Help Supercharge Snopes For 2020
We have big plans. We need your help.