里滕豪斯,17 岁,被指控杀害两人在抗议警察暴行在威斯康星州基诺沙,于 2020 年 8 月 25 日。
【宣称】
在基督教网站 GiveSendgo 的众筹活动招募捐款,以帮助凯尔·里滕豪斯,一个 17 岁的被控杀害两个人在一次抗议在威斯康星州的凯诺沙。
【结论】
真的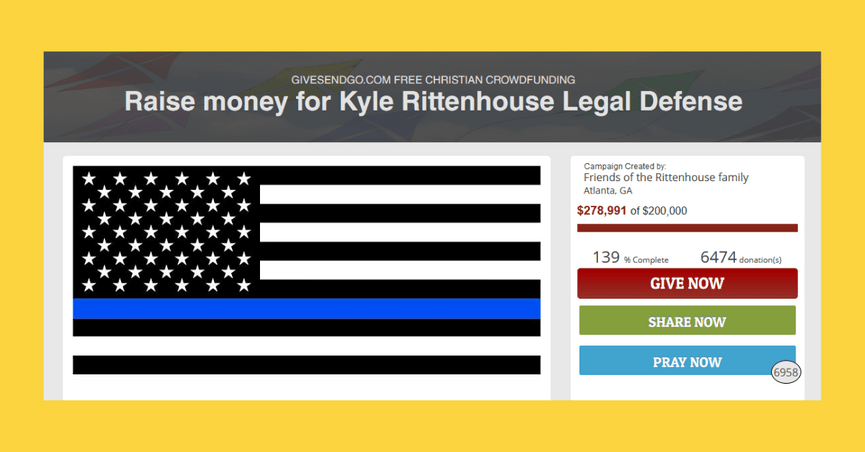 【原文】
After Illinois teen Kyle Rittenhouse was charged with fatally shooting two people and wounding another during a protest in Kenosha, Wisconsin, on Aug. 25, 2020, Snopes received numerous inquiries from readers wondering if a self-described Christian crowdfunding website was hosting a fundraiser to supposedly help pay Rittenhouse's legal defense.
The killings occurred during a chaotic confrontation between people protesting the Aug. 23 police shooting of a Black man, Jacob Blake, and armed vigilantes who claimed to be patrolling the lakeside city to prevent looting and property destruction. Rittenhouse, 17, was captured in video footage carrying a military-style rifle, marching alongside members of the latter group, and putting his hands up after shots were fired. Authorities arrested him on Aug. 26 in connection with the deaths in Antioch, Illinois, where he was being held without bail and awaiting his next court hearing on Sept. 25.
The charges against Rittenhouse included first-degree intentional homicide, which carries a life sentence. The Chicago Tribune reported:
Rittenhouse's case immediately became a popular cause in conservative circles, where pundits began defending the teenager before he had even been charged. At least two defense funds have been launched in his name in recent days, though it's unclear if the Rittenhouse family supports either of those efforts.
That brings us to the question from Snopes readers: Was a website that brands itself as Christian called GiveSendGo hosting an apparent online fundraiser to help Rittenhouse pay court costs?
On Aug. 27 the crowdfunding site posted the following statement to Twitter:

The campaign stoked controversy online among people who believed it wrongfully celebrated the actions of an alleged killer and should be removed from the crowdfunding website. Referring to Blake, who was paralyzed from the waist down after a white police officer shot at his back multiple times on Aug. 23, one Facebook user alleged:
In response to those critics, Wells told Snopes:
We recognize that we live in a world of diverse ideas and opinions and that part of our strength is in that diversity. We will respond with grace to those that disagree with us. We will give grace to ourselves to not always get it right as we learn and grown. Finally we will give grace to the campaign owner, those that support the campaign, and Kyle as he walk out [sic] the ramifications of his actions.
In sum, given how GiveSendGo describes itself — the "#1 Free Christian Crowdfunding Site" — as well as evidence of listed donations on a webpage that says it will give all contributions to help fund Rittenhouse's legal defense, we rate this claim "True."