病毒式帖子讲述了一个失踪女人、幽灵般的幻影和一辆废弃汽车的故事。
【宣称】
摄影师在照片中发现了幽灵般的人物后,返回该地点,找到了与废弃车辆匹配的车钥匙,然后了解到附近有一名女性神秘地失踪了。
【结论】
虚假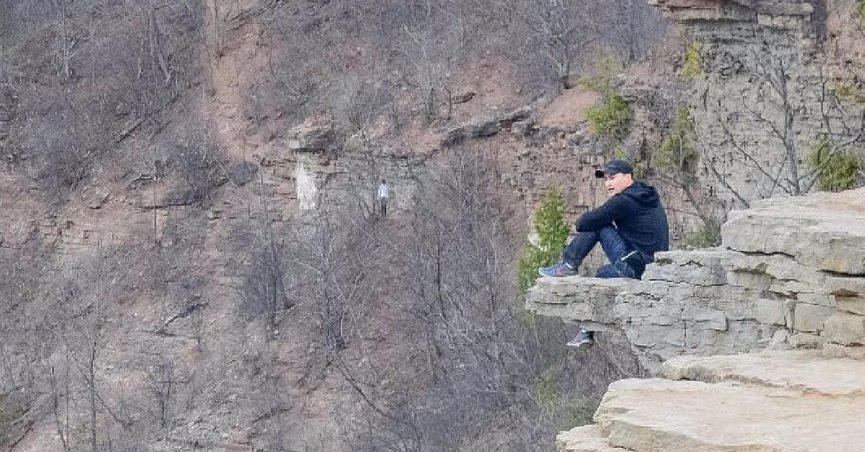 【原文】
The story was an intriguing one right from the start: A woman hiking with her boyfriend took his picture at a popular Canadian cliffside that overlooked the wilderness below. Later that night, she looked closely at the photograph and noticed a person — perhaps even a ghost — standing far in the background. She returned to the location where she snapped the picture and found a set of car keys. Walking back to the parking lot, she located a matching abandoned car. After she began her search for the missing driver, police told her about a woman who had gone missing in the area, and she found out through additional research that the missing woman's husband had an abusive past. When she later returned to the abandoned car, the missing woman emerged from the woods, alive and well.
It's quite the tale, but it's not true. Rather, it appears that elements from at least two different stories from 2016 and 2019 were combined to make one dramatic narrative that took on different forms in 2020: Upbeat News published "Hiker Finds Something Unexplainable in Photos from Her Trip," and Penguin MD posted a piece headlined, "Her Vacation Photo Went Viral and She Couldn't Figure Out Why."
Since at least June 2020, different versions of this story have been published across multiple viral content websites, touted by advertisements such as the following that promised quite the spooky story: "Mom Struggled to Understand Why Her Photo Went So Viral, Then Saw the Background."
After readers clicked the advertisement to read the story, they were presented with a lengthy slideshow that loaded multiple ads per page, a phenomenon known as advertising arbitrage, where the goal is to make more money on the ads displayed during the slideshow than it costs to place the ads that drive readers to the story in the first place.
Pareidolia was also mentioned. It's defined by Merriam-Webster as: "the tendency to perceive a specific, often meaningful image in a random or ambiguous visual pattern." One pareidolia example we covered in the past was what looked to be the shape of a wolf on a horse's coat.
The Car Keys and Abandoned Car (2019)
Although the ghost in the image seems to have been inspired by a captivating Reddit post, the part of the story about car keys being found dangling from a root below the cliff and the discovery of an abandoned car appeared to come from a real news story.
On Nov. 21, 2019, Global News reported that 27-year-old Lovleen Dhawan went missing just three months before, after police believed she was "in the area of Tew Falls and Dundas Peak." Toronto News also reported that police were looking for two women who found Dhawan's car keys, so local authorities could investigate where the keys were first discovered:
Peel police investigators are looking to speak with two women who found car keys in the area of Webster Falls near the Village of Dundas on Thursday, Aug. 15.

These women, described as being in their 20s and wearing sports clothing, are considered key witnesses in a missing person investigation, according to police.

Police said they have information that two female hikers found a set of car keys belonging to the missing person, Lovleen Dhawan. Dhawan's bronze colored Hyundai Elantra was located in the Webster Falls parking lot.

Police said they believe the hikers gave the keys to another group of people before leaving the area at approximately 4 p.m.
On Sept. 11, 2020, Toronto News reported that police still had not yet heard from the two women who found the car keys. As of late 2020, Lovleen Dhawan was still missing.
Two Stories in One
The viral content provider Upbeat News appeared to combine a somewhat spooky photograph with a real missing person report, with bits of fiction sprinkled on top. Meanwhile, Penguin MD's version of the story did not mention an abusive husband, nor did it end with a missing woman walking out of the woods.
While it was not definitively known what the shape in the background of the photograph was, we have rated this claim as false since it combined two completely unrelated happenings into a single viral story.