该集团的少数参与者声称是美国陆军的成员。
【宣称】
【结论】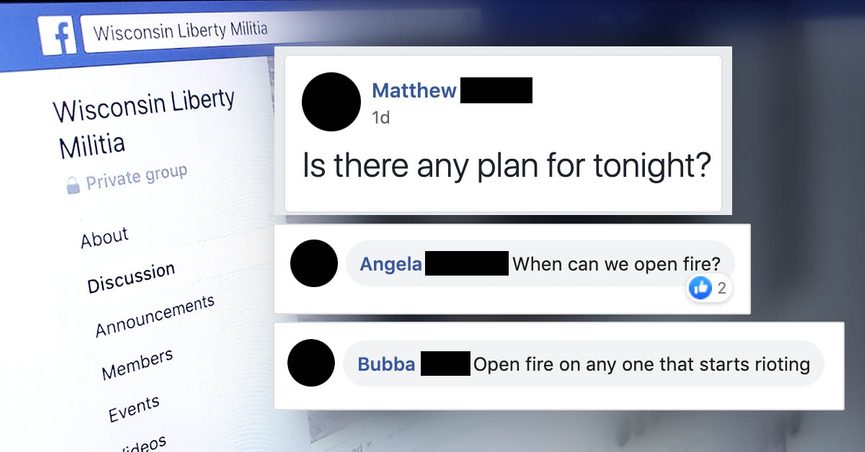 【原文】
Numerous Facebook users who branded themselves as armed vigilantes protecting Kenosha, Wisconsin, shared posts justifying the actions of Kyle Rittenhouse — a white teenager charged with killing two people and wounding another during a protest against police brutality in the lakeside city — and threatened to start violence after his arrest, a Snopes investigation has found.
Despite the social media site's ban on such discourse by militias and white supremacists, Facebook accounts used a private group named Wisconsin Liberty Militia to discuss plans that included opening fire on "any one that starts rioting" and setting suspicious vehicles on fire.
The police shooting of a Black man, Jacob Blake, by a white police officer in Kenosha on Aug. 23, 2020 sparked nightly protests against racism by American police in the city, and then those gatherings prompted armed counter-protesters, including Rittenhouse, to patrol streets. He was arrested on Aug. 26, in Antioch, Illinois, where he reportedly lives with his mother in an apartment complex, and he was charged with first-degree intentional homicide, among other crimes.
Under the guise of trying to prevent looting and property destruction, the Wisconsin Liberty Militia Facebook group included at least four people who claimed to be members of the U.S. Army, Wisconsin Army National Guard, or U.S. Department of Veterans Affairs on their Facebook profiles. Additionally, at least one other user said he did "army shit" while simultaneously being a member of the group, and one of the group's supposed founders told Milwaukee journalists he was a veteran.
What follows is everything we know about the former online militia group, its members, and its threats of violence on the heels of the alleged killings by Rittenhouse, who was captured in footage carrying a military-style rifle and marching alongside members of various armed groups shortly before the shooting. Several fringe Facebook pages, in addition to the Wisconsin Liberty Militia group, appeared to be dedicated to organizing such gatherings, despite the social platform's recently expanded policy prohibiting discourse that celebrates or advocates for violence.
Kevin Mathewson, 36, a former alderman in Kenosha, told The New York Times he had organized the Kenosha Guard page during the protests against the killing of Floyd because he felt that the police were outnumbered by demonstrators and could not protect the city.
Per the Milwaukee Journal Sentinel, a post in that group attempted to rally "patriots willing to take up arms and defend [our] City tonight from the evil thugs." After Rittenhouse's arrest, Facebook spokespeople told reporters the company did not find a connection between his account and the Kenosha Guard page.
After the deadly shootings, The Verge reported The Kenosha Guard group said it was unsure whether one of its members had fired on protestors but did not disavow the shooting or its perpetrator. "We are unaware if the armed citizen was answering the Kenosha Guard Militia's call to arms," the statement read. "Just like with the shooting of Jacob Blake, we need all the facts and evidence to come out before we make a judgement. God Bless and stay safe Kenosha!"
Facebook told journalists that it had received several complaints about The Kenosha Guard page, which had gained more than 3,000 members, before the killings during a protest, but an initial review by site moderators had erroneously left it up, per numerous news reports. By Aug. 27, 2020, Facebook removed the group — much like the Wisconsin Liberty Militia group — under its new rules to ban groups that celebrate or condone violence, or the Dangerous Individuals and Organizations policy.
Under that guideline, site moderators ban content they find that "celebrated violent acts, shown that they have weapons and suggest they will use them, or have individual followers with patterns of violent behavior," including pages, groups, and Instagram accounts associated with militias. The policy stated: "While we will allow people to post content that supports these movements and groups, so long as they do not otherwise violate our content policies, we will restrict their ability to organize on our platform."
When notified of the Wisconsin Liberty Militia group by Snopes, a Facebook spokesperson sent us a link to that policy and wrote, via email: "Thanks for flagging this group to us. We have removed it for violating our new policy addressing militia organizations."
As of this report, several other Facebook groups with similar purposes remained active on Facebook, such as Militia Wanted Wisconsin and Wisconsin Unorganized Militia. Additionally, according to a Guardian analysis of CrowdTangle data, hundreds of Facebook posts and memes featuring the phrase "Free Kyle" or "Free Kyle Rittenhouse" had garnered more than 70,000 interactions as of Aug. 27, 2020.
Snopes Senior Reporter Alex Kasprak contributed to this report.