视频片段显示,一名反移民示威者积极质疑亚利桑那州众议员埃里克·德斯谢尼关于他的公民身份。
【宣称】
抗议移民的特朗普武装支持者要求知道美国原住民议员是否 "合法" 在美国。
【结论】
真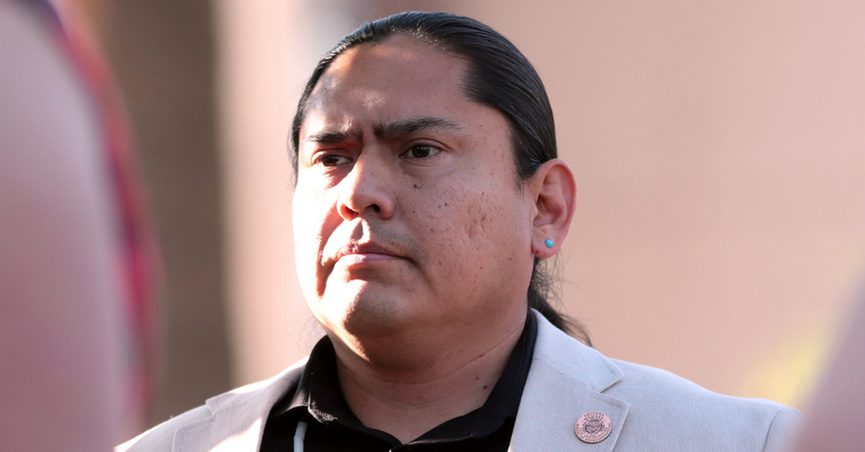 【原文】
In late January 2018, reports surfaced that supporters of Donald Trump confronted a Native American legislator during an anti-immigration protest at the Arizona state capitol, demanding to know whether he was in the country legally. The viral stories on various web sites (including The Hill and the liberal RawStory.com) were all aggregated from the original reporting of the Arizona Capitol Times, a nonpartisan weekly newspaper focused on Arizona government and state politics.
We confirmed that one of the anti-immigration protesters did indeed ask an indigenous state representative whether or not he was "legal," both through video footage of the incident and three corroborating interviews with Arizona state legislators who witnessed the scene. In the background of the following video, a protester asks Rep. Eric Descheenie whether he is "legal." Descheenie is Navajo. Rep. Pamela Powers Hannley filmed the exchange:
The incident occurred during a chaotic, five-hour long demonstration on 25 January 2018 at the Arizona capitol building where roughly a dozen anti-immigration activists turned out to protest the social justice lobbying group Living United for Change in Arizona (LUCHA) — though the group was there to advocate for pro-labor legislation, not immigration. Protesters alleged that LUCHA was "trying to advance social, racial and economic justice for DACA recipients, illegal aliens and their illegal families." According to state lawmakers who were at the scene, the protesters were visibly armed.
Several state lawmakers and staff reported that the protesters singled out non-white people and accused them of being in the country "illegally."
We contacted protester Jennifer Caminiti-Harrison, who appears in the foreground of the video above, for comment. She told us on 1 February 2018 that a media representative was handling her communications, but no representative has responded to our query:
We are working on a statement now. […]

Please do not release the story without the statement or you'll need to retract your story once you see the full video.
At another point, they approach a dark-haired woman demanding to know if she's a legislator and when she doesn't answer, they question whether it's because she doesn't speak English.
Descheenie told us he was walking out of the capitol for lunch at a nearby farmer's market with fellow Arizona state lawmaker Rep. Wenona Benally (D-Window Rock) when he saw protesters "hounding" a group of children and Hannley. In a phone interview, Descheenie told us:
We could see [Rep. Powers Hannley] walking in our direction. I distinctly remember seeing her face. and I'll never forget it. She had this look of terror and frustration. She was getting hounded by three of the protesters. I heard her acknowledge they were harassing children and you could see it happening. [Benally and I] in an effort to mitigate the intimidation and harassing, we began to absorb it. My intent was to get them off Pamela Hannley and get them to quiet down, have a constructive dialogue.

The one person I was speaking with primarily, she obliged. The other two did not. They continued to harass Rep. Hannley. I turned to one and asked her to calm down, lower her voice. She asked me if I was legal. I'm not going to tolerate a question like that given the history of indigenous people in this country. These are our aboriginal lands and I don't need someone asking me about my legal status. It speaks for itself. I told her not to ask me that question.
Hannley told us she also encountered the protesters when she was going to the farmer's market for lunch and saw them yelling at a group of children. When she tried to intervene, they surrounded her:
I went out to lunch and I saw them harassing this group of about 12 children aged maybe 8, 9, 10 years old. They were obviously on a school trip. I don't know if they were Latino children or Native American but they definitely had brown skin, and these people started screaming, "You're illegal, go home." They were walking down the sidewalk with them screaming at them.

When they came back around I said that what they were doing was inappropriate. I don't know how many groups of school children these people harassed. I know of at lest three representatives who tried to intervene [in similar incidents] and they got harassed. They surrounded me and started screaming things like, "Do you support people smuggling children into the U.S.?" And then representatives Descheenie and Benally walked up and they started screaming at them.
Rep. Hannley provided a second video showing the group yelling at schoolchildren as a man yells at them to "get away from those children":
Benally told us that even after the three legislators ended the conversation and broke away from the confrontation with the help of a capitol security guard, the protesters continued to follow them and yell at them. The encounter was so hostile that Benally said a security guard told the legislators take the back entrance when they returned to the capitol building from lunch.
Help Supercharge Snopes For 2020
We have big plans. We need your help.