总统为什么不断向追随者分享错误信息,有一些有趣的理论。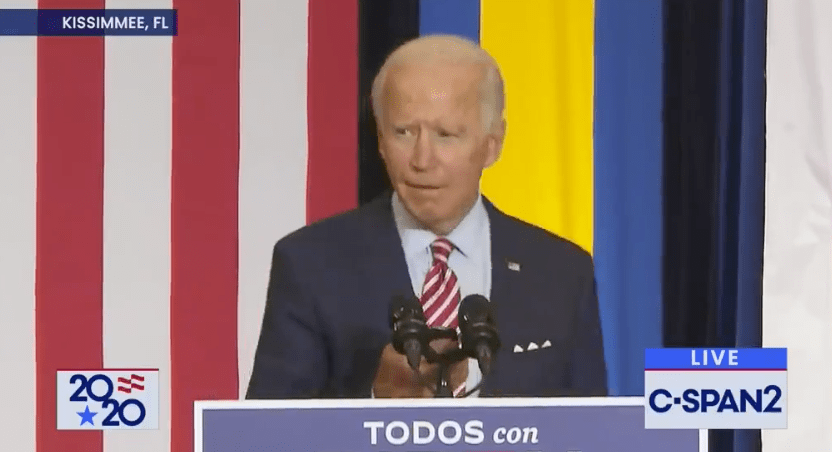 【原文】
U.S. Election Day is Nov. 3, 2020
.
Check
your state's vote-by-mail options.
Browse
our coverage of candidates and the issues. And just keep fact-checking.
In mid-September 2020, disobeying Twitter's rules prohibiting deceptive media, U.S. President Donald Trump shared a doctored video featuring Democratic presidential nominee Joe Biden twice within 24 hours. It was yet another example of the president's apparent disregard for circulating misinformation that may taint public perception.
A camera captured the former vice president playing the 2017 Latin pop song "Despacito" by Luis Fonsi from a cell phone, smiling and bopping his head at a podium during a campaign event in Kissimmee, Florida, on Sept. 15, per C-SPAN video evidence. The pop artist was in attendance and also spoke at the event.
But the edited version of the video shared by Trump replaced the pop song with N.W.A's 1988 single "Fuck Tha Police" apparently to show Biden as being anti-law enforcement. "What is this all about?" Trump tweeted with the fake video.
China is drooling. They can't believe this! //t.co/AAmBGgHhyR

— Donald J. Trump (@realDonaldTrump) September 16, 2020
Per Twitter policies, site administrators may put the label on tweets that were deceptively altered or fabricated, or shared in a deceptive manner. Meanwhile, content that site monitors believe could "impact public safety or cause serious harm" is subject to removal. The policy stated:
We are most likely to take action (either labeling or removal […]) on more significant forms of alteration, such as wholly synthetic audio or video or content that has been doctored (spliced and reordered, slowed down) to change its meaning. […]

We also consider whether the context in which media are shared could result in confusion or misunderstanding or suggests a deliberate intent to deceive people about the nature or origin of the content, for example by falsely claiming that it depicts reality.
The misleading statement about law enforcement was not the first instance of Trump tweeting in ways that breached the above-explained policy by Twitter, whether purposefully or not.
For instance, in June 2020, the president shared a video featuring a Black child being chased by a white, supposedly "racist baby," followed by clips of them hugging. But the video was fake — edited and doctored with a fake news chyron. Twitter labeled the video, which was no longer viewable as of this writing, as "manipulated media" — just like the doctored clip about Biden.
Just weeks later, the president perpetuated a major COVID-19 misinformation campaign by sharing a video featuring a Texas doctor named Stella Immanuel who claimed without evidence that she treated "hundreds" of COVID-19 patients and that masks weren't necessary to prevent the virus' spread. (See our investigation into Immanuel here, and note the Centers for Disease Control and Prevention (CDC) recommends everyone wear masks when they're around others during the pandemic.) Social media sites, including Twitter, removed the video after Trump shared it and it had been viewed millions of times.
As for the doctored clips of Biden, in the absence of an interview with the Trump campaign, the president's specific reasons for sharing the clips were unknown.
Theoretically speaking, however, Darren Linvill, a professor at Clemson University who researches social media disinformation, told The Washington Post in early 2020 that politicians typically share altered videos or misleading fakes (like the Biden clip) to confirm people's biases.
In other words, the goal of the Biden video shared by Trump was not to convince Democrats to vote Trump but rather to reinforce existing beliefs among the president's fans, using Linvill's theory. "The more entrenched we are, the less possible it is to agree with the other side," he said.
Regarding politicians like Trump who frequently distribute misleading content, Becca Lewis, a researcher at Stanford University who studies media manipulation, also told The Post:
They're broadcasting to an audience that already believes or feels a certain way about a politician, so, often, when [the truth of the alteration] comes to light, people just don't care […] They say 'it could have been true' or 'nonetheless, it reflects who the person really is.' There's a shared form of apathy in some cases for the fact that it was manipulated at all.