第 45 位总统在 2020 年的选举中创造了历史,无论好坏。
【宣称】
唐纳德·特朗普是第一位当选的美国总统,在失去民众选票的同时被弹劾,然后又未能连任现任总统。
【结论】
真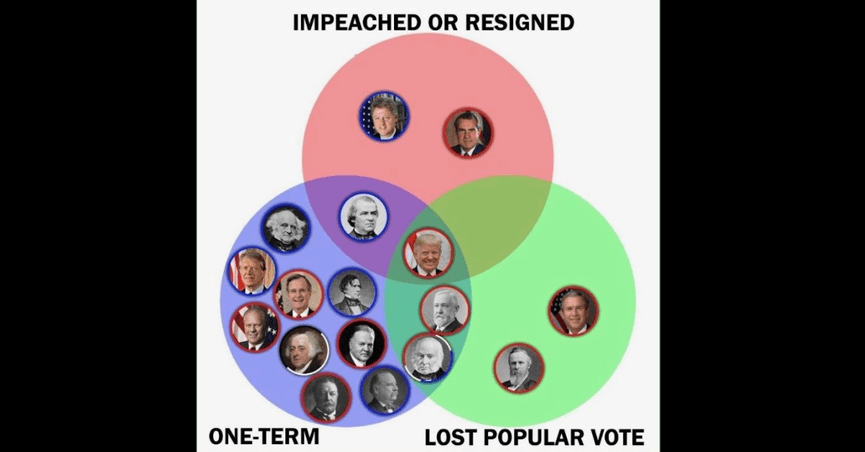 【原文】
Voting in the 2020 U.S. Election may be over, but the misinformation keeps on ticking.
Never stop fact-checking. Follow our post-election coverage
here
.
In the aftermath of Democratic candidate Joe Biden's projected victory in the 2020 U.S. presidential election, social media users, primarily those gratified by the defeat of incumbent President Donald Trump, shared a Venn diagram that indicated he was the first president in U.S. history to be impeached and lose the popular vote and lose his reelection bid.
To illustrate the popularity of the graphic, in the days after major news organizations projected Biden as the winner on Nov. 7, 2020, the following screenshot shows instances of it on Facebook:
The graphic purported to show three intersecting cohorts of American presidents: those who failed to be reelected as incumbents; those who won while losing the popular vote; and those who were "impeached or resigned." According to the diagram, Trump is the only president to have fit all three of those descriptions. The Venn diagram was shared by several prominent journalists and activists:
Fifteen American presidents sought reelection as the incumbent, but failed. Based primarily on records held by the American Presidency Project at the University of California-Santa Barbara, they were:
Millard Fillmore. Succeeded Zachary Taylor after Taylor's death in 1850; defeated by Winfield Scott at the Whig party convention in 1852; therefore did not run in the 1852 general election. 
Franklin Pierce. Won in 1852; defeated by James Buchanan at the 1856 Democratic National Convention; therefore did not run in the 1856 general election. 
Andrew Johnson. Succeeded Abraham Lincoln after Lincoln's death in 1865; defeated by Horatio Seymour at the 1868 Democratic National Convention; therefore did not run in the 1868 general election.
Chester A. Arthur. Succeeded James Garfield after Garfield's death in 1881; defeated by James Blaine at the 1884 Republican National Convention. Arthur is included here because he received votes at the party convention but, in part due to his ill health, his 1884 campaign was largely tokenistic, and he readily conceded defeat to Blaine. 
Benjamin Harrison. Won in 1888; defeated by Grover Cleveland in 1892.
Gerald Ford. Succeeded Richard Nixon after Nixon's resignation in 1974; defeated by Jimmy Carter in 1976. 
Jimmy Carter. Won in 1976; defeated by Ronald Reagan in 1980.
George H.W. Bush. Won in 1988; defeated by Bill Clinton in 1992.
Donald Trump. Won in 2016; defeated by Joe Biden in 2020.
Lost popular vote
Most presidential candidates who lose the election also lose the popular vote. What the Venn diagram referred to was candidates who were elected despite losing the popular vote — of which there have been five:
Impeachment
Three sitting presidents have been impeached by the U.S. House of Representatives. None has been convicted by the U.S. Senate and removed from office. As we have previously examined in greater detail, the two impeached presidents before Trump were Andrew Johnson, in 1868, and Bill Clinton, in 1998.
Andrew Johnson. In February 1868, the House of Representatives voted along party lines to impeach Johnson on 11 articles of impeachment. On May 16, senators fell just one short of the two-thirds threshold required to convict him on the eleventh article (bringing disrespect to Congress). Another vote, on May 26, again failed by one vote to convict Johnson on two further articles of impeachment, and the process subsequently collapsed.
Bill Clinton. In December 1998, in the aftermath of the Monica Lewinsky scandal, the Republican-controlled House of Representatives voted 228-206 to impeach Clinton on a charge of perjury (with five Democrats crossing the aisle to impeach the president and five Republicans voting against); and voted 221-212 in favor of a charge of obstruction of justice. (The House dismissed two further charges of perjury and abuse of power). In February 1999, the U.S. Senate voted 55-45 to convict Clinton on the perjury charge, and was split 50-50 on the obstruction of justice charge — on both occasions significantly short of the two-thirds majority required to convict him.
Donald Trump. As we have already outlined, in December 2019, the Democrat-controlled House voted to impeach Trump on charges of abuse of power and obstruction of Congress, stemming from claims that he had improperly sought the assistance of a foreign power (Ukraine) in advancing unfounded allegations of wrongdoing by then-presumptive Democratic nominee Joe Biden. In February 2020, the Republican-controlled Senate voted to acquit the president.
Conclusion
The following table provides a summary of our findings and underlines the accuracy of the core claim in the November 2020 "Venn diagram" meme — that Trump was the first president in American history to be elected while losing the popular vote, and then subsequently impeached before failing in his bid to be reelected as the incumbent.
| | | | |
| --- | --- | --- | --- |
| President | Failed to be reelected as incumbent? | Elected while losing popular vote? | Impeached by House of Representatives? |
| John Adams | ♦ |   |   |
| John Quincy Adams | ♦ | ♦ |   |
| Martin van Buren | ♦ |   |   |
| Millard Fillmore | ♦ |   |   |
| Franklin Pierce | ♦ |   |   |
| Andrew Johnson | ♦ |   | ♦ |
| Rutherford B. Hayes |   | ♦ |   |
| Chester A. Arthur | ♦ |   |   |
| Grover Cleveland | ♦ |   |   |
| Benjamin Harrison | ♦ | ♦ |   |
| William Howard Taft | ♦ |   |   |
| Herbert Hoover | ♦ |   |   |
| Gerald Ford | ♦ |   |   |
| Jimmy Carter | ♦ |   |   |
| George H.W. Bush | ♦ |   |   |
| Bill Clinton |   |   | ♦ |
| George W. Bush |   | ♦ |   |
| Donald Trump | ♦ | ♦ | ♦ |
Help Supercharge Snopes For 2020
We have big plans. We need your help.