对唐纳德·特朗普指控他强奸了一名 13 岁女孩的民事诉讼于 2016 年 5 月在加利福尼亚州被解雇,2016 年 6 月在纽约重新提起,2016 年 11 月再次下降。
【宣称】
【结论】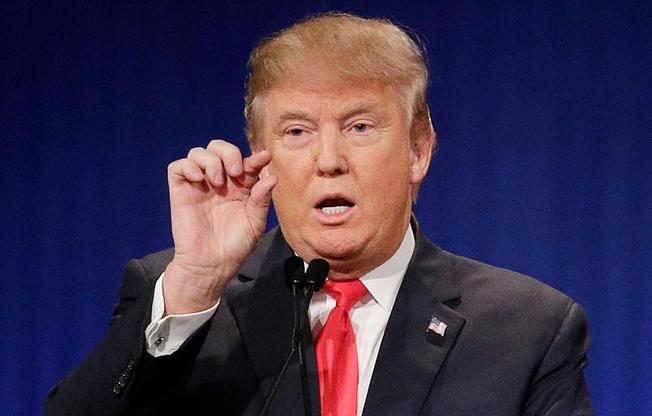 【原文】
In late April 2016, rumors began to circulate online holding that Republican presidential Donald Trump had either been sued over, or arrested for, raping a teenaged girl. One of the earliest versions of the rumor was published on 2 May 2016 by the Winning Democrats web site, which reported that woman using the name Katie Johnson had named Trump and billionaire Jeffrey Epstein in a $100 million lawsuit, accusing them of having solicited sex acts from her at sex parties held at the Manhattan homes of Epstein and Trump back in 1994 (when Johnson was just 13 years old):
The first major scandal to hit the Trump campaign besides the typical "what a racist, such a sexist, yada yada yada," came from a lawsuit stemming from the infamous sex parties held by billionaire and known pedophile Jeffrey Epstein. The woman named in the suit is Katie Johnson, who says Trump took her virginity in 1994 when she was only 13 and being held by Epstein as a slave.

Johnson says in the complaint that Trump and Epstein threatened her and her family with bodily harm if she didn't comply with all of their disgusting demands. The Trump campaign has been on this immediately, calling it absolute nonsense and not even remotely true or possible.
Many aggregated reports cited a 28 April 2016 article that described the circumstances under which the lawsuit had been filed:
Presidential frontrunner Donald Trump is fighting what could be the biggest election season bombshell yet — explosive court claims that he raped a woman when she was a teen.

The woman — identified as Katie Johnson — filed documents in a California court on April 26, accusing Trump and billionaire pedophile Jeffrey Epstein of "sexual abuse under threat of harm" and "conspiracy to deprive civil rights," RadarOnline.com has exclusively learned.

She filed the lawsuit herself — without legal representation — and is suing for $100 million.
A copy of the California lawsuit (filed on 26 April 2016) shared via the Scribd web site outlined the allegations, which included the accusation that Trump and Epstein had (over 20 years earlier) "sexually and physically" abused the then 13-year-old plaintiff and forced her "to engage in various perverted and depraved sex acts" — including being "forced to manually stimulate Defendant Trump with the use of her hand upon Defendant Trump's erect penis until he reached sexual orgasm," and being "forced to engage in an unnatural lesbian sex act with her fellow minor and sex slave, Maria Doe, age 12, for the sexual enjoyment of Defendant Trump" — after luring her to a "series of underage sex parties" by promising her "money and a modeling career":
The filing also included a statement from "Tiffany Doe" (i.e., the woman referenced in plaintiff's statement above who brought her to the parties) attesting that:
I personally witnessed four sexual encounters that the Plaintiff was forced to have with Mr. Trump during this period, including the fourth of these encounters where Mr. Trump forcibly raped her despite her pleas to stop.

I personally witnessed the one occasion where Mr. Trump forced the Plaintiff and a 12-year-old female named Maria [to] perform oral sex on Mr. Trump and witnessed his physical abuse of both minors when they finished the act.

It was my job to personally witness and supervise encounters between the underage girls that Mr. Epstein hired and his guests.
A video reportedly featuring "Katie Johnson" (her identity hidden through the use of facial pixillation, a long blonde wig, and an electronic voice distorter) appeared online, in which she graphically described giving Donald Trump a hand job and being raped by him:
 
There is little doubt that Donald Trump knew Jeffrey Epstein, as Trump acknowledged in a 2002 New York magazine profile of Epstein:
Epstein likes to tell people that he's a loner, a man who's never touched alcohol or drugs, and one whose nightlife is far from energetic. And yet if you talk to Donald Trump, a different Epstein emerges. "I've known Jeff for fifteen years. Terrific guy," Trump booms from a speakerphone. "He's a lot of fun to be with. It is even said that he likes beautiful women as much as I do, and many of them are on the younger side. No doubt about it — Jeffrey enjoys his social life."
Epstein had been named in multiple similar lawsuits over the previous several years, served 13 months in jail, and was registered as a sex offender for life:
Billionaire sex offender Jeffrey Epstein has paid another accuser.

The 56-year-old money manager has quietly settled with Jane Doe 102, an unnamed woman who alleged in federal court in Florida that Epstein had induced her to "serve his every sexual whim" from the time she was 15 until she was 19. The woman also claimed Epstein had flown her around the world, paying her "to be sexually exploited by [his friends] … including royalty, politicians, academicians [and] businessmen."

Epstein flatly denied those charges. But a source close to the financier confirms "the matter has been resolved to the satisfaction of both parties." The woman's lawyer, Robert Josefsberg, wouldn't say how much she's getting. Epstein had in the past offered accusers a minimum of $150,000.

Epstein has settled at least two other civil suits but still faces more than a dozen from women who claim he sexually abused them as minors at his Palm Beach mansion.
As of now, all of the information about this lawsuit comes solely from the complaint filed by "Katie Johnson," and no one has as yet located, identified, or interviewed her. She was scheduled to appear at a press conference on 2 November 2016 but didn't show up, asserting that threats to her life kept her away. She reportedly dropped the lawsuit again on 4 November 2016 for the same reason.