1787 年夏天,费城的代表们一致认为,他们创造的新国家不会有一个国王,而是一个选举产生的行政长官。但他们没有就如何选择总统达成一致。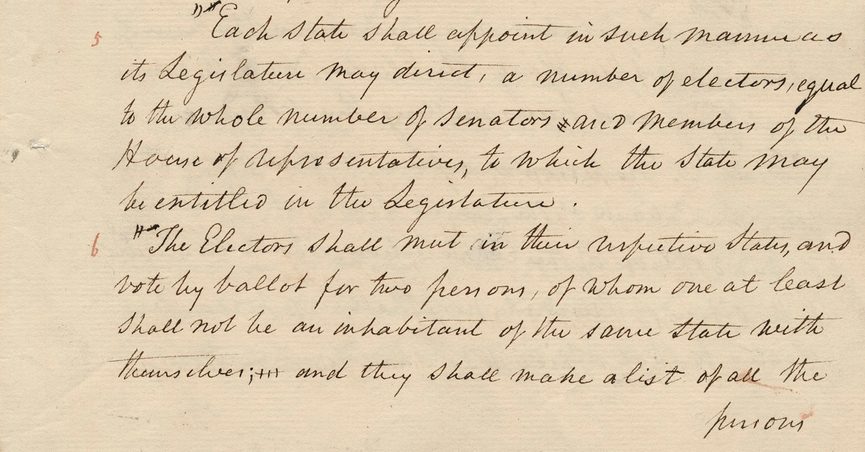 【原文】
This article is republished here with permission from The Conversation. This content is shared here because the topic may interest Snopes readers; it does not, however, represent the work of Snopes fact-checkers or editors.
---
The delegates in Philadelphia agreed, in the summer of 1787, that the new country they were creating would not have a king but rather an elected executive. But they did not agree on how to choose that president.
Pennsylvania delegate James Wilson called the problem of picking a president "in truth, one of the most difficult of all we have to decide." Other delegates, when they later recounted the group's effort, said "this very subject embarrassed them more than any other – that various systems were proposed, discussed, and rejected."
But the original system – in which the winner of the Electoral College would become president and the runner-up became vice president – fell apart almost immediately. By the election of 1800, political parties had arisen. Because electoral votes for president and vice president were not listed on separate ballots, Democratic-Republican running mates Thomas Jefferson and Aaron Burr tied in the Electoral College, sending the contest to the House of Representatives. The House ultimately chose Jefferson as the third president, leaving Burr as vice president – not John Adams, who had led the opposing Federalist party ticket.
The problem was resolved in 1804 when the 12th Amendment was ratified, allowing the electors to cast separate ballots for president and vice president. It has been that way ever since.

---
Phillip J VanFossen, J.F. Ackerman Professor of Social Studies Education; Director, Ackerman Center; Associate Director, Purdue Center for Economic Education, Purdue University
This article is republished from The Conversation under a Creative Commons license. Read the original article.
Help Supercharge Snopes For 2020
We have big plans. We need your help.