边缘俱乐部的成员变成志愿者 "安全" 力量已公开倡导暴力和白人至上。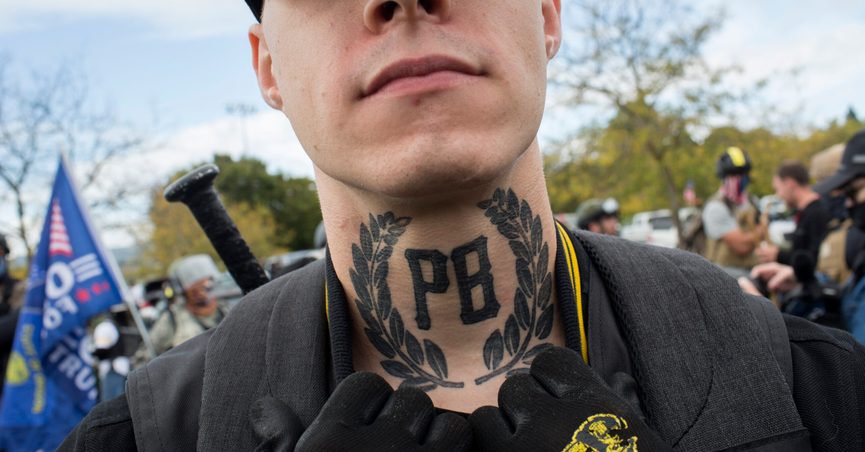 【原文】
U.S. Election Day is Nov. 3, 2020
.
Check
your state's vote-by-mail options.
Browse
our coverage of candidates and the issues. And just keep fact-checking.
Within minutes after U.S. President Donald Trump told the Proud Boys, a far-right group with members who espouse white supremacism, to "stand back and stand by," on national television on Sept. 29, 2020, members of the men-only group took to fringe social media sites to celebrate what they considered a "historic" moment for their ideological push against leftists.
The president's comment — which viewers interpreted as either an endorsement of neo-fascism or an example of his unorganized speaking style — took place on a presidential debate stage with Democratic rival Joe Biden after moderator Chris Wallace asked Trump to condemn white supremacists and militia groups, and he did not do it. The scene unfolded like this:
Trump: — I would say, I would say almost everything I see is from the left wing, not from the right wing —
Wallace: So what do you, what are you saying?
Trump: I'm willing to do anything, I want to see peace —
Wallace: Then do it, Sir —
Biden: Say it. Do it. Say it.
Trump: Do you want to call them, what do you want to call them? Give me name, give me a name, go ahead —
Wallace: White supremacists and right-wing —
Trump: Who do you want me to condemn? Who?
Biden: The Proud Boys
Wallace: White supremacists and right-wing militias
Trump: The Proud Boys? Stand back and stand by, but I'll tell you what, I'll tell you what, somebody's got to do something about Antifa and the Left…
Tarrio had attended Florida Republican events for years and launched a brief, unsuccessful campaign to represent a portion of South Florida in the U.S. House of Representatives in 2020. He dropped out of the race before the primary election.
Florida Republican congressional candidate Laura Loomer, a far-right provocateur whose hate speech has gotten her banned from mainstream social media sites, defended the group in a October 2020 interview with Forward, a news outlet for Jewish Americans, and said McInnes is a friend to her. "I think Jewish organizations should be more concerned with Antifa and Black Lives Matter than the Proud Boys," she said. 
In an interview with Business Insider, Tarrio said at least 30 Proud Boys were campaigning for political offices ranging from local City Council seats to U.S. Congress, but he did not identify them, citing concerns for their safety. "People may not even know they're voting for a member of the group," the news outlet reported.
Who Is Proud Boys Chairman Enrique Tarrio?
McInnes announced he was stepping away from the Proud Boys in November 2018 and months later filed a defamation lawsuit against the SPLC, alleging that its "hate group" designation for the Proud Boys erroneously damaged his career. (That case is ongoing as of this report.) Then, Tarrio, 36, a Cuban-American from Miami, took over as chairman.
Responding to a survey during his brief congressional campaign, Tarrio said he was born in Miami to Cuban-American parents, owns several small businesses in the security and surveillance industry, and got involved in political activism in 2005. He said he studied at Miami Dade College and the University of Miami.
According to public records obtained by the South Florida Sun Sentinel, Tarrio has a criminal history that includes theft charges. In 2013, he was sentenced to 30 months in federal prison for rebranding stolen medical devices and reselling them across state lines, according to federal records.
In a December 2018 interview with The Miami New Times, Tarrio said he was attracted to two of the Proud Boys' ideals — glorify the entrepreneur and abolish prisons — since he said he saw firsthand that the prison system isn't helping reform anyone. (We should note here: Proud Boys did not list abolishing or dismantling the prison system as a core value on its website.) He defended members' offensive posts, including homophobic and racial slurs and rape jokes, as free speech. Tarrio himself at one point called African American actress Leslie Jones an "ape," called Islam a "shitstain of a religion," and referred to transgender people as "it" on social media, per the newspaper's analysis.
Also in 2018, Tarrio was captured in video footage representing the Proud Boys and heckling then-House Minority Leader Nancy Pelosi at a campaign event, yelling: "You don't belong here, you fucking communist."
Does the Group Only Allow White Members?
No, but that doesn't mean the group doesn't promote racism (we'll explain more below).
First, members of the Proud Boys represent a range of ethnic backgrounds, and leaders have repeatedly said they will screen any man who wants into the group — regardless of of his sexual orientation, voting record, or race.
That, according to supporters, is evidence of the group's inclusiveness and discredits allegations of racism and bigotry — as well as the fact that their leader identifies as Afro-Cuban. Wilfred Reilly, a political science professor at Kentucky State University, told the conservative media outlet, The Washington Times: "The Proud Boys are openly right-leaning group and they'll openly fight you. They don't deny any of this, but saying they're white supremacist, if you're talking about a group of people more than 10% people of color and headed by an Afro-Latino guy, that doesn't make sense."
But what's missing in that logic is the clear pattern of social media posts and statements by Proud Boys members that promote white supremacy, as well as members' associations with extreme white nationalists. No matter how leaders attempt to control the narrative and brand the Proud Boys as a benign, men-only drinking club, documented evidence shows otherwise, according to findings compiled by the anti-hate groups.
Such a rhetorical strategy is known to scholars of white nationalist and extremist groups. Sociologist Rogers Brubaker, for instance, said the concurrent embrace of intolerance and inclusion is a recruiting strategy — people who may otherwise hold an aversion toward extremist groups might join because of the ideological muddiness, and the organization could grow to gain mainstream acceptance among journalists, politicians, and the public, per the SPLC. The center added:
The Proud Boys' pro-western posture allows them to position themselves — somewhat counterintuitively — as a tolerant and progressive social force. If Islamic backwardness, as they imagine, threatens gay people and women, then they serve as their guardians by protecting and promoting "western values." Their opposition to Muslims and Islam, improbably, stands as a marker of their own tolerance. In that way, their ideology is similar to many European far-right groups — like the French National Front and Danish Party for Freedom — who push hardline anti-immigration policies at the same time they call for greater tolerance in the form of secularism and gender equality, all the while attempting to distance themselves from overt racists.
In other words, Proud Boys are "utter exemplars of plausible deniability and wanting to have it both ways," to keep followers, said Alexandra Minna Stern, a University of Michigan professor and researcher of eugenics in the U.S.
One former member told ABC News reporters he left the Proud Boys after the deadly Charlottesville rally because — while the group was not "solely responsible" for the violence there — its meetings and online forums provided "a safe haven for those kinds of racists ideas."
"Everybody is not perpetuating violence, but the complicitness in knowing that there's violence going on, the complicitness in that you're not checking people who have racist and violent tendencies makes you part of the problem," the ex-Proud Boy said.
Help Supercharge Snopes For 2020
We have big plans. We need your help.