私人 Facebook 集团的活动包括亲 Qanon 消息,欢呼 "阻止" Biden-Harris 战役巴士的想法,并谈论武装枪支。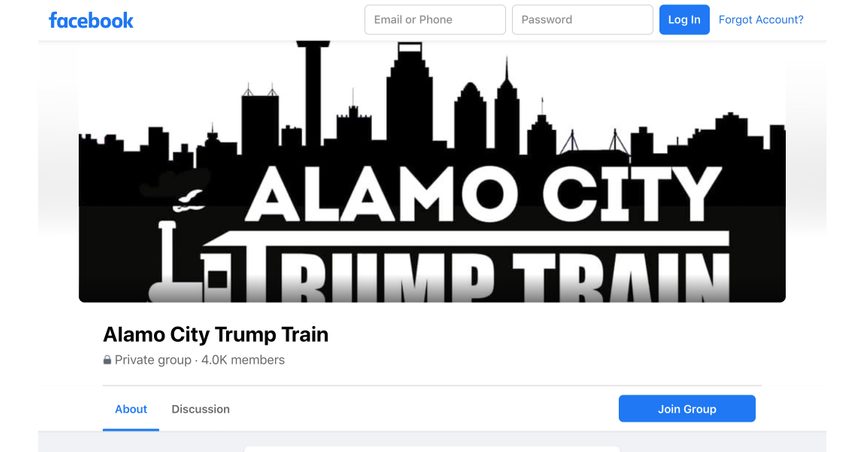 【原文】
U.S. Election Day is Nov. 3, 2020
.
Read
our live Election Day fact-checking.
Browse
our coverage of candidates and the issues.
Check
your state's vote-by-mail rules and regulations.
Send
us tips when you see misinformation online. And just keep fact-checking.
On Oct. 30, 2020, a convoy of pickup trucks flying flags in support of U.S. President Donald Trump followed and surrounded a Biden-Harris presidential campaign bus on Interstate 35 in Texas. Viral video showed an apparent collision involving a white SUV that was accompanying the bus and a dark-colored pickup truck flying Trump flags. Days after the incident, Snopes reported on the facts of what happened on the road that day, as well as news that the FBI was investigating. New evidence has come to light that answers some questions but raises new ones.
Alamo City Trump Train is one of the Facebook Groups where the Trump-supporting, pickup-truck convoy was organized. Inside the private group on Oct. 30, a member posted "#OperationBlockTheBus RN," with "RN" meaning "right now," as it was the same afternoon as the incident.
This post referring to blocking the campaign bus of Democratic candidate Joe Biden and his running mate, Kamala Harris, was endorsed with 142 reactions, including likes, laughing emojis, or love hearts. "I LOVE IT!!!!," said one commenter. "This is awesome," said another. Other comments included: "Great job!," "GOOD!," "Love it," "This is fucking hilarious," and "Awesome."
The same group member then posted another phone number, and commenters in the group organized to find names and locations associated with the numbers.
In an extended video found in the Facebook Group, a dark-colored truck with Trump flags that clashed with the white SUV can be seen speeding up to tailgate the bus so that the SUV (which was accompanying the bus) could not get behind the bus. The white truck in front of the white SUV then appears to slow down, causing the white SUV to brake.
The white SUV appeared to be damaged in the incident. As pointed out in our earlier fact check, the SUV appeared to be over the highway road line. However, another angle in a video reposted by NowThis (beginning at 1:20) revealed more of what happened. The bus appeared to be changing lanes to the right lane. The SUV then attempted to stay with the bus, but the dark-colored truck sped up and braked behind the bus so as to not allow the white SUV over. Brake lights are visible on the dark-colored truck at the 1:24 mark in the NowThis video, just before the shot changes.
The Facebook Group was created in early September, and its member count grew above 4,000 on the night before Election Day.
Help Supercharge Snopes For 2020
We have big plans. We need your help.